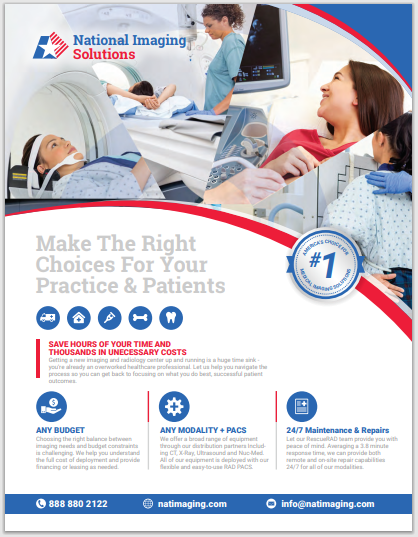 SAVE HOURS OF YOUR TIME AND THOUSANDS IN UNNECESSARY COSTS
Getting a new imaging and radiology center up and running is a huge time sink – you're already an overworked healthcare professional.
Many people are left wondering; how do I know I'm getting the best ROI for my medical imaging equipment? Where do I even start with purchasing medical imaging? Is leasing, renting, or buying an x-ray, CT, MRI, ultrasound or new PACS right for my medical imaging needs? Are there any financing options for this kind of medical imaging device purchase?
That's why we created two useful downloads to help you get started on the path that is best for your facility!
Get started today by downloading your FREE copy of our ROI brochure. With this document, you'll be able to clearly see which medical imaging equipment, modality, and PACS is the right choice for your facility. You'll also be able to see different ROI outcomes based on your custom choices and open the door to modalities and PACS that are best suited for your exact medical imaging facility's needs.
Interested in learning more about purchasing, renting, or leasing x-ray equipment specifically? We also have a FREE X-ray Buyer's Guide available for download that can help answer your questions and ensure you're on the right track for the right equipment to fit your budget and needs.
Let us help you navigate the process so you can get back to focusing on what you do best: successful patient outcomes.
ANY BUDGET
Choosing the right balance between medical imaging and radiology equipment needs and budget constraints is challenging. As one of the medical imaging equipment leaders within the United States, we'll help you understand the full cost of deployment and provide financing or leasing as needed.
ANY MODALITY + PACS
We offer a broad range of equipment through our distribution partners including CT, X-Ray, MRI, Ultrasound and Nuc-Med. All of our equipment is deployed with our flexible and easy-to-use RAD PACS. When it comes to medical imaging equipment modalities and PACS, we have the right equipment for your medical facility. We also specialize in DynaRad's portable x-ray units.
24/7 Maintenance & Repairs
Let our RescueRAD team provide you peace of mind when it comes to your medical imaging equipment regardless if it is day or night. Our RescueRAD team is a phone call away! Averaging a 3.8 minute response time, we can provide both remote and on-site repair capabilities 24/7 for all of our modalities so you can rest easy knowing your x-ray, CT scanners, MRI, and ultrasound equipment will be properly taken care of.
We offer both emergency and routine maintenance and repairs for any modality. Learn more about our maintenance and repairs by contacting us here or by calling us at (888) 880-2122.